Release 5: This Week's New Features
Interactive Move Map: This week we published an awesome visualization tool - an interactive Move Map! When TrueNCOA finds an 18-Month move for one of your records, we provide you with the updated address. We refer to the original and updated addresses as the Historical and the Current addresses respectively. Each of these addresses is plotted on the Move Map with a line drawn between them. You can view this map before you purchase and download your results. After you purchase and download your results, the plotted addresses allow you to select and view the different moves present in your file. The historical address is represented by a grey box labeled with its address_id, while the current address is represented by a blue box labeled with its address_id. When you click on a line between two addresses, the markers will stand out. Clicking on marker will show you address information for the historical address (the From address) and the address information for the current address (the To address). Log in today and check out Move Maps for files you have already processed.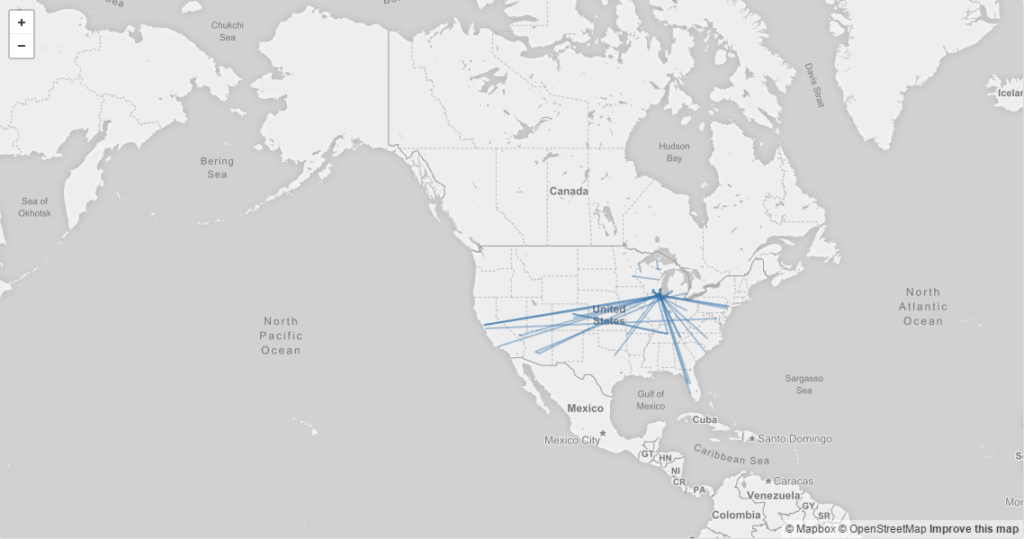 Potential Direct Mail Cost Savings on TrueNCOA Report: We added a Savings Calculator to the file display page. Located in the TrueNCOA Report, the Savings Calculator displays the amount of money you save by running your file through TrueNCOA before mailing. Non-compliance penalties and wasted postage can cost non-profit mailers as much as $0.44 per piece. We calculate your potential savings by using a count of total moves, invalid addresses, and vacant addresses.

Improvements: Easier Field Mapping and Helpful Links
Color Coded File Icons: Every file you upload, will now be color coded. When the file is created or mapped, the file icon will be black. If the file has been processed but not yet downloaded, the file icon will be blue. If the file has been processed AND downloaded, the file icon will be green. If the file was cancelled during processing, the icon will be grey. Finally, if the file has errored, the file icon will be red.
Receipt Details: We realized that our payment receipts weren't as clear as we wanted them to be, so we improved the receipt details. You will now see your card details: card brand, last 4 digits of your card, and card expiration date.
File Preview on Field Mapping Page: We wanted our users to be able to preview their upload file at any time, so we added the File Preview section to the bottom of the Field Mapping page.
Helpful Links: The Helpful Links bar gives you easy access to our Input Guide, Output Guide, Data Dictionary, and Getting Started video. Each of these items are updated weekly, so you can always refer to them if you have a question about your data.
Cancel Button on Upload: We added a Cancel button to the upload area on our homepage. This button allows you to clear out your data from the upload area if you want to select a different file for upload.
Processing update: When your file completes the NCOA process, the corresponding icon will update as soon as your file finishes.
Fixes
Can't Re-Map Processed File: In the past, users were able to access the Field Mapping page after their file started processing! Changing the mapping fields caused files to error, so we have updated our app to not allow field mapping changes if a file has a status of Processing or Processed. If you have mapped the wrong fields and your file is already processing, just click the Cancel Processing button and re-upload your file!
Country Code Removed from Field Mapping: Because the United States Postal Service only processes NCOA for the US, we removed country code as an input field option.