This Week's New Features
Automated CASS Reports: TrueNCOA is excited to announce our automated CASS Report process! We create a CASS Report for each file as soon as you download it for the first time. You can access your report after you download your file. To access the CASS Report, navigate to your file display page and click the CASS Report button (like in the image below). This will take you to a CASS Report page, where you can use your internet browser to print or PDF the report. This is helpful if you need to provide proof of NCOA to a mail house, USPS, or someone else in your organization. We created CASS reports retroactively, so if you have downloaded a file in the past you should have access to its CASS Report. Log-in today to view your free CASS Report (or read more about CASS here).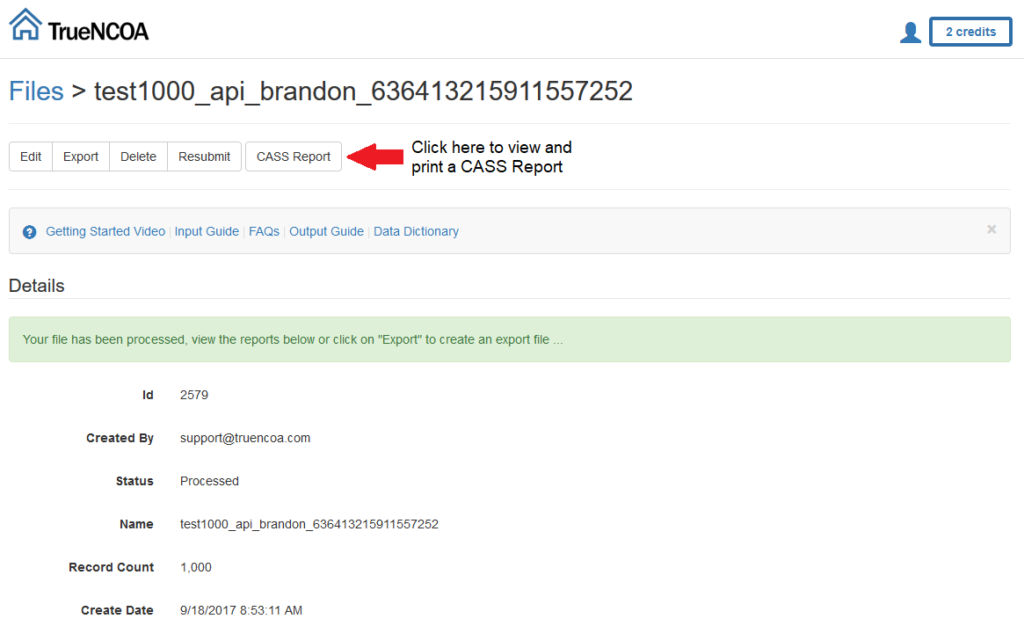 Users Page: This week we released a new page called the Users page. Click the icon in the app header to access this page (see image below). The Purchases and Credits section shows your transaction history, and also allows you to resend your receipt emails to yourself. To resend your receipt email, click the envelope icon next to the transaction. After clicking this icon, a prompt will ask you "Are you sure you want to email this receipt?" Choose "Ok" to resend your receipt email to yourself, or "Cancel". The Credit Usage section provides a history of your credit usage. You'll see a line for each time you downloaded a file. If the line corresponds to the first time you downloaded a particular file, you'll see that one (1) credit was used for the download. If the line corresponds to a re-download, or an Automated Active File Re-Process, you'll see that zero (0) credits were used for the download.

Improvements
Additional Output Data: We've improved our process to include Moves with No Forwarding Address and Expired Moves. Moves with No Forwarding Address are identified when a change of address was filed with USPS, but no forwarding address was provided by the customer. Read the Data Dictionary for a full list of NXI codes that correlate to Moves with No Forwarding Address. Expired Moves are those moves where the customer filed a change of address, but USPS no longer recognizes their original address as deliverable. These addresses are removed from the USPS database weekly, and accordingly TrueNCOA will not provide updated addresses for these moves.
TrueNCOA Report: The TrueNCOA Report was updated to include Moves with No Forwarding Address & Expired Moves. Moves with No Forwarding Address are counted in your Total NCOA Moves, and are also considered for your Potential Direct Mail Cost Savings.
Last Name, First Name Parsing: We updated our name parser to handle full names formatted like "Last name, First name Middle name". For example, if your file contains a name like "Doe, John Michael", we can parse the name into "John Michael Doe".
Updated API Specifications: We've updated our API specifications. For field mapping to succeed, please use "address_city_name" as the column header for City data.
Fixes
Mozilla Firefox Download: Some users were unable to download their processed file when using the Mozilla Firefox browser. We've update the app to allow Firefox users to download files.